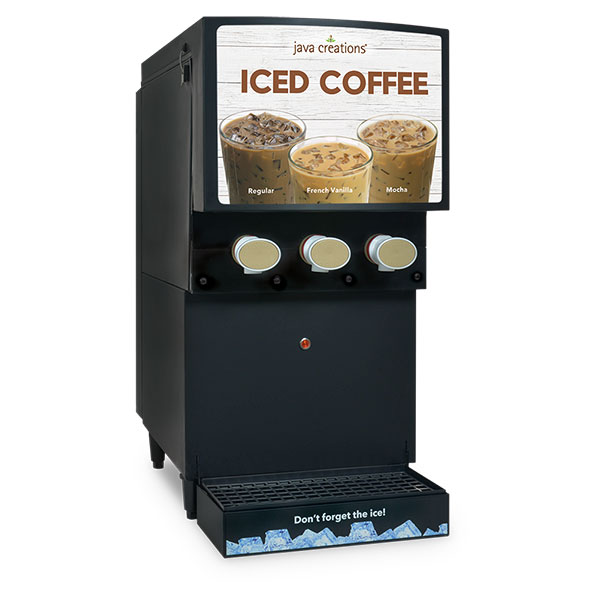 Iced Coffee Java Creations – 3 flavors
Coffee refreshment just got a whole lot better!
Java Creations® iced coffees are made with our own premium blend of coffee beans, real dairy, andno preservatives. Our smooth, coffee-forward flavor is unsurpassed. Retail gross profit margins generally exceed 50%, so let the profits flow!
Regular 
Traditional blend with creamyGrade A whole milk and pure cane sugar
French Vanilla
Sweet French vanilla flavor – a true favorite
Mocha
Rich, sweet, mocha flavor
Description
Regular Kona Blend
Ingredients: Water, Liquid Cane Sugar,
Grade A Whole Milk, Kona Blend Coffee
Concentrate, Natural and Artificial Flavors,
Dipotassium Phosphate (Stabilizer),
Vitamin D3.
Allergens: Milk
French Vanilla Kona Blend
Ingredients: Grade A Skim Milk,
Grade A Whole Milk, Sugar, Kona
Blend Coffee Concentrate, Natural
and Artificial Flavors, Liquid
Dipotassium Phosphate (Stabilizer),
Vitamin A & D.
Allergens: Milk
Mocha Kona Blend
Ingredients: Grade A 1% Low-Fat
Milk, Liquid Cane Sugar, Kona Blend
Coffee Concentrate, Natural &
Artificial Flavors, Liquid Dipotassium
Phosphate (Stabilizer), Vitamin A & D.
Allergens: Milk