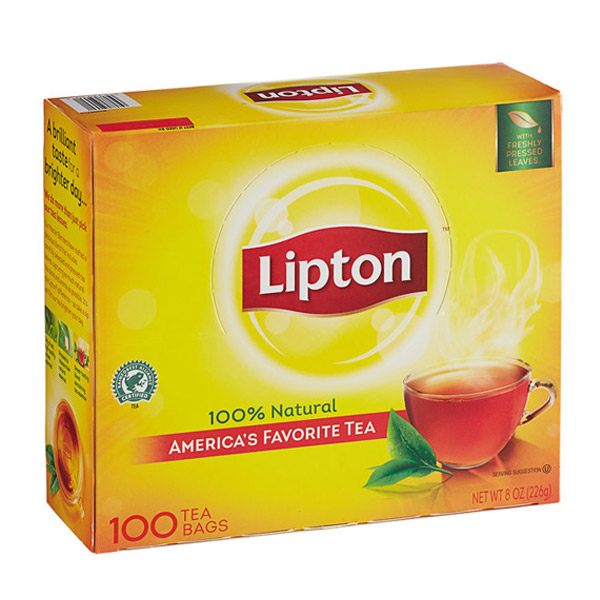 Lipton Classic Black Tea Bags – 100/Box
Made with a signature blend of orange pekoe and black tea
Contains heart-healthy flavonoids and other antioxidants
Serve unsweetened or sweeten to taste
Easy-to-steep design provides quick preparation
Ideal for hotels, offices, and cafes
Description
Give your patrons the energizing caffeine boost that they're looking for from a tea brand they trust with Lipton's traditional black tea. This black tea blend features carefully-picked and fresh-pressed tea leaves for a classic, smooth black tea flavor and aroma. These tea bags are ideal for placing at your break room's self-serve hot beverage station or hotel breakfast bar or simply offering as a tea selection on your beverage menu. Not only does this tea offer the perfect morning boost or afternoon pick-me-up, it also contains flavonoids and other antioxidants, which can help support a healthy heart when consumed as part of the everyday diet!
With 100 tea bags per case, this bulk supply will keep you well stocked for all service needs. Each tea bag is packaged in individual serving size envelopes, making this tea a convenient option for on-the-go customers and busy employees. The bag's easy-to-steep design provides quick preparation without sacrificing quality of flavor, color, and aroma. For best results, this tea is best served hot. To prepare, simply pour boiling water over a tea bag and steep for 3 to 5 minutes, depending on the desired strength. Drink plain, add a dash of milk and, or a simple squeeze of lemon to enjoy.
Lipton's history began in 1890 when Sir Thomas Lipton set out to buy his first tea plantation. Through his marketing genius it did not take long for Lipton to become successful and in 1893, he opened the Thomas J Lipton Co. tea packaging company based in Hoboken, New Jersey, where he strived to make tea a drink not just for the wealthy. Through continual innovation, Lipton is a renowned brand that offers one of the largest selections of tea flavors on the market. Plus, in the US, 100% of their leaf tea is Rainforest Alliance Certified and it supports smallholder farmers to ensure sustainability. Ethically sourced and affordable for you, trust in Lipton tea to provide a superior taste to your quality customers.