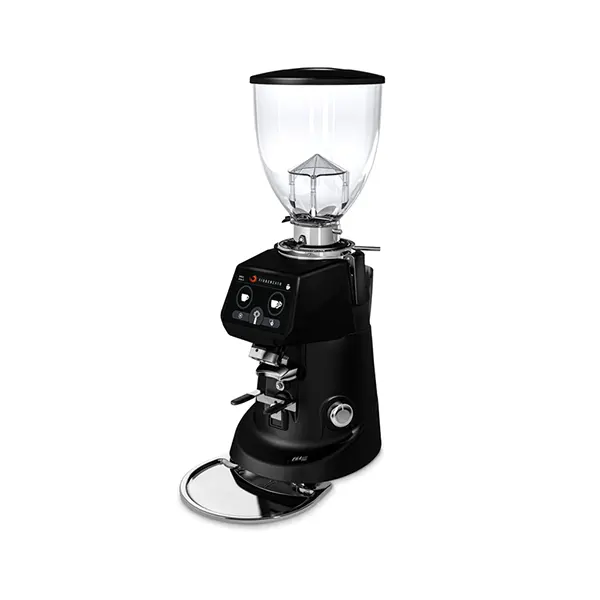 Fiorenzato F64 Evo Pro Espresso Grinder
The Fiorenzato F64 Evo Pro coffee grinder is a barista-friendly professional grind on-demand coffee grinder with a digital touch screen that displays useful information for discerning café operators. This grinder is a smart Italian-made coffee grinder in a black color scheme that is quiet, smooth, and easy to operate.  The innovative Pro cleaning system allows the operator to remove the burr housing for cleaning without losing the grind setting.
Making a quality cup of espresso coffee relies on the precise grinding of coffee beans and even the smallest variations on a day-by-day basis do have an impact on the extraction of the espresso.
Doserless
Stepless adjustment
Continuous micrometric grinding adjustment
E Model =On Demand Dosing System
Standard Adjustable Portafilter Fork
Color: Deep Black (Matte)
Grinding adjustment with ring nut
Flat grinders, diameter 64 mm
ETL Approved
View Pro Line Video
SPECIFICATIONS:
RPM: 1350/min (50 Hz), 1550/min (60 Hz)
Motor: 350W
Bean Hopper Capacity: 3.3lbs
Adjustment Configuration: Stepless
Dimensions: 9″W x 24.2″D x 10.6″H
Grinder Material: Hardened Steel
Burr Diameter: 64 mm
Weight: 28.6 lbs.