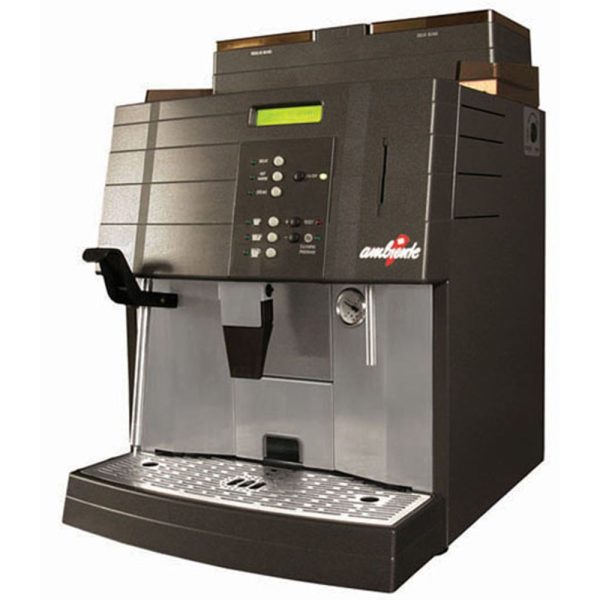 Schaerer Ambiente Automatic Commercial Espresso Machine
With the Schaerer Ambiente Powersteam, even novices can make great tasting cappuccinos or lattes with just the touch of a button. This super automatic machine takes the guesswork out of specialty drinks—grinding, tamping, brewing, and discarding used grounds automatically. This stylish, space-saving unit comes with integrated grinder, dual boilers, and two bean hoppers, making it the ideal choice for medium-sized cafes and restaurants. If a wide range of beverage selection is what you're looking for, this Schaerer model is just the thing with its 10 programmable drink buttons and six beverage volume settings. The Ambiente Powersteam can also deliver the perfect milk for cappuccinos and lattes!
HIGHLIGHTS
Push-button technology
Steam wand with auto shut-off feature
Two boilers and dual bean hoppers
Easy-to-read digital display
Programmable maintenance reminders
Automated cleaning cycle
10 programmable drink selections and six drink volume settings
Makes 70-80 lattes/cappuccinos an hour
Specifications
• 208V, 30 Amperes
• 17"/432mm (W) x 21"/534mm (D) x 27"/690mm (H) • 6kW steam boiler
• 3kW hot water boiler
• Performance capacity indicative in nature
Techical Specifications
Cups per Hour: 120
Bean Hopper Capacity: 1 lb
Max Cup Height: 6.75 Inches
Coffee Spout: Double, 2 cups at once
Hot Water Spout: Yes
Auto Shut Off: Yes
Espresso Boiler: 3 kW Independent Boiler
Steam Boiler: 6 kW Independent Boiler
Simultaneous Steam/Brew: Yes
Pre-Infusion (brewing): Yes
Water Supply: Pluming or Remote Water Tank
Drain: Should be hooked up to drain
Dimensions: WxHxD: 20 1/2″ x 30 1/2″ x 17″
Weight: 75 lbs
DETAILS
Automated & Programmable Operation
The Ambiente Powersteam's grind, tamp, and extraction settings are customizable for every espresso-based drink, giving you the ultimate control over your beverages. With 10 programmable drink selections, there's something for everyone! And, once a beverage has been selected, the Ambiente delivers the exact amount every time, with six unique drink-volume settings. Maintenance reminders are also programmable to ensure you never miss a scheduled cleaning!
Dual Features
The Ambiente Powersteam's two hoppers come with designated grinders, enabling it to accommodate different types of beans, from regular to decaf or specialty roasts. The unit's dual boilers will allow you to steam milk and dispense espresso at the same time.
Powersteam & Auto-off Feature
The steam wand has an auto-off feature and takes advantage of Powersteam technology to deliver the perfect milk for your beverages. The Ambient Powersteam can steam and froth for lattes and cappuccinos, while ensuring the ideal milk temperature and consistency for the selected beverage. This unit can steam and impressive 32oz of milk per minute.
MAINTENANCE
Daily Maintenance
This unit has an automated cleaning cycle, which takes only five minutes to complete. The cleaning cycle should be performed daily or after 250 drinks to ensure that the Ambiente Powersteam remains in good working condition.
Periodic Maintenance
Within your first year of installation, a designated Schaerer service vendor will provide preventative maintenance services during the 1st and 3rd quarters. After the first year of ownership, you will have the option of purchasing an extended warranty and service program. For optimal performance, we recommend using a water filtration system every six months.
Installation
Whole Latte Love will help coordinate the installation of your machine with a trained representative.