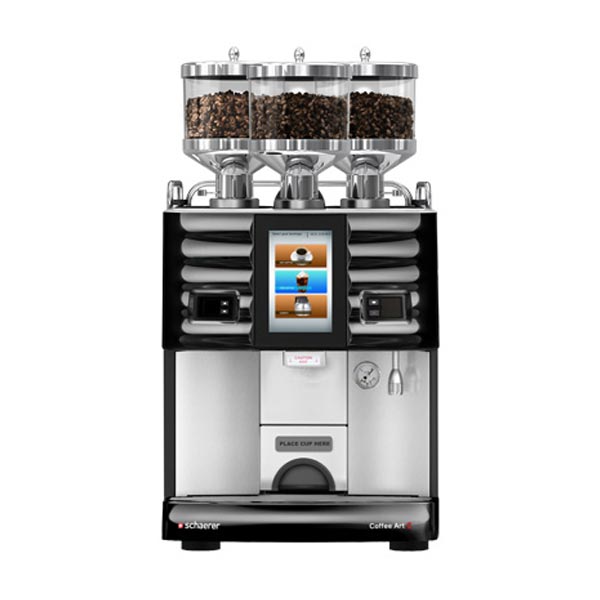 Schaerer Coffee Art C
Leading the Bean-to-Cup Coffee Revolution
Fresh hot and iced coffee on demand
Every brew cycle is consistent and ground straight from whole beans
Up to 70-80 beverages per hour (16oz)
Reduce waste and labor
Easy to operate and clean
Ideal for hotels, restaurants, fast casual restaurants, quick service restaurants, bakeries, coffee shops & convenience stores
Operational Advantages
Fresh hot and iced coffee on demand at the push of a button.
Real iced coffee without sacrificing taste (no melting of ice or dilution).
Every brew cycle is consistent and ground straight from the bean for unsurpassed freshness, aroma and taste.
Speed – Faster than a traditional drip brewer without recovery time (64oz carafe).
Reduce waste – There's no need to hold coffee anymore.
Save energy – Unlike drip coffee makers, there's no need to heat and maintain large quantities of water in reserve.
Less labor – Avoid all the handling and maintenance required with drip coffee makers.
Simple and intuitive user interface, ideal for self-serve and staff operated environments.
Supports multiple bean types.
Easy-to-follow animated cleaning instructions.
Aesthetic design for high visibility concepts.
Capacity/Programming Flexibility
70-80 beverages per hour (16oz)
Up to three hoppers with dedicated grinders each hold up to 2.2 lbs.
Dosage, volume, pre-infusion and bypass settings are programmable for each beverage selection.
Up to 80 programmable options.
Specifications
208V, 20 Amperes
NEMA L6-20R Receptacle
17″ (W) x 22″ (D) x 28″ (H)