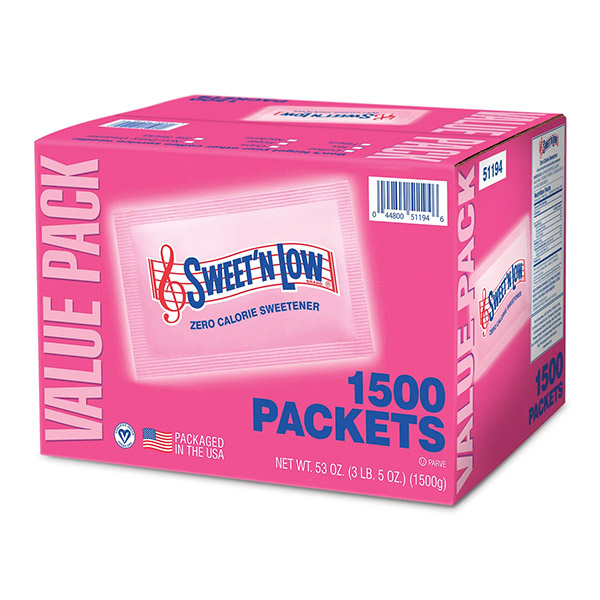 Sweet'N Low Zero-Calorie Sweetener Packets (1,500 ct.)
America's #1 Pink Sweetener
Zero Calories
1500 ct. Value Pack
Great Taste
When you think zero calorie sweetener, Sweet'N Low® is likely the first brand that comes to mind. The pink packets are a mainstay of restaurants, diners, truck stops, coffee shops, and homes; everyone knows that it's the #1 pink sweetener without any calories on the market. Over the years, Sweet'N Low has become the top choice in food service businesses and the brand that so many customers have come to expect.
How Can You Use the Sugar Substitutes?
If you are using sugar, honey, or other natural sweeteners for your coffee, and you are looking for natural sugar substitutes, Sweet'N Low may well be the perfect choice for you. This sugar substitute is the classic coffee sweetener. However, it can work well for more than just coffee. You can also use Sweet'N Low in your tea, lemonade, or iced tea, and in punches and smoothies. There are plenty of beverages that benefit from the sweet flavoring you'll find in these pink packets.
Not only drinks that benefit from Sweet'N Low. People use this sweetener wherever they want to add sweetness to a food without adding sugar, like oatmeal, cereal, and baked goods. You name it!
Why Choose the 1,500 Count Box?
This box comes with 1,500 packets of Sweet'N Low–plenty for a pantry staple in your home, or for concession stands that sell coffee and tea, for restaurants and diners, and for any other establishments that anticipate needing a lot of sweetener.