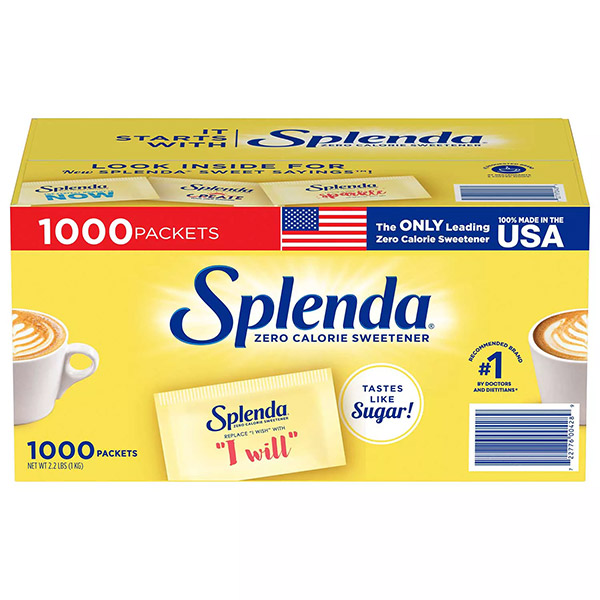 Splenda Zero Calorie Sweetener Packets (1,000 ct.)
1000 Splenda zero calorie sweetener packets
Zero calories, tastes like sugar
Each packet of Splenda zero calorie sweetener provides the same sweetness as two teaspoons of sugar
It starts with Splenda, every delicious way you'll cut sugar today. Baking blueberry muffins or peanut butter cookies within your calorie count. Or enjoying that first cup of coffee in the morning. Splenda delivers a variety of great tasting solutions to help you achieve a healthy, balanced lifestyle without sacrificing taste.
Splenda Zero Calorie Sweetener packets are a perfect zero-calorie sugar alternative for sweetening your favorite coffees, teas, fruit and more. They taste like sugar with no calories or sugar, and are conveniently portioned for easy sweetening at home, the office and on-the-go!
Each Splenda zero-calorie sweetener packet sweetens like two teaspoons of sugar and can easily dissolve in all your favorite beverages. Use them anywhere you would normally use sugar. Also, no matter your lifestyle, Splenda packets deliver guilt-free sweetness and is suitable for individuals with diabetes, living a low-carb lifestyle, or simply looking for easy ways to cut sugar consumption without sacrificing taste. Splenda zero-calorie sweetener packets are gluten-free and kosher, too.
Trust Splenda and enjoy the sweet taste of sugar without excessive calories or carbs. Splenda is the #1 recommended sweetener brand by doctors and dietitians clinically treating patients. Start with Splenda, the sweetener brand millions of people love and trust daily and America's favorite sweetener brand and see the difference today.