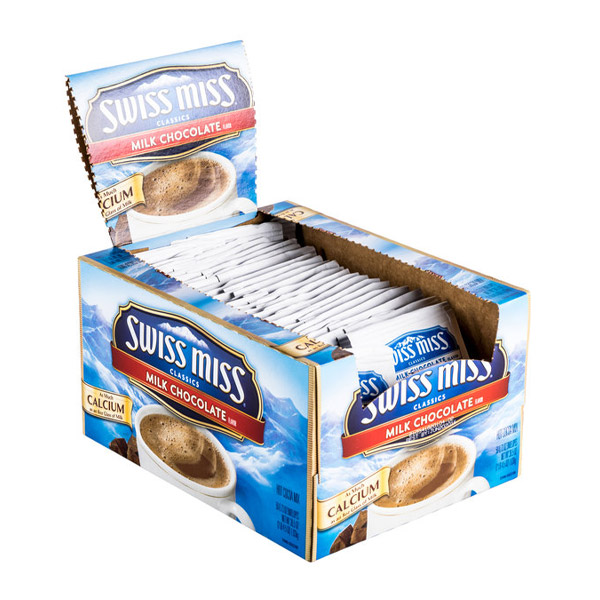 Swiss Miss Hot Chocolate Mix Packet – 50/Box
Few things are more comforting than a piping hot beverage on a brisk day. With Swiss Miss hot chocolate mix, you can bring your patrons that warmth and satisfaction any time.
Made with the utmost care, Swiss Miss products are created from only the best ingredients, blending the freshness of locally farmed milk with the decadence of premium imported cocoa. Packed with a rich chocolate flavor, a smooth, and a frothy texture, this mix will create the perfect cup of cocoa for any cozy moment. The convenient packets are an ideal addition to cafes and restaurants, as well as for use in offices, waiting rooms, or as hotel room amenities.
Individual Ready-to-Use Packages
Incredibly easy to use, guests, employees, or customers can even make the hot chocolate for themselves. For each serving of mix, simply pour cocoa mix from packet into a mug and gradually stir in 6 oz. of hot water. For more indulgent cocoa, make with warmed milk instead of water.
Calcium Rich
This hot chocolate mix contains as much calcium as an 8 oz. glass of milk, making for a rewarding and delicious beverage treat that is truly guilt-free.
Sweet Chocolate Taste
Indulge in the creamy, milk chocolate taste of this hot chocolate mix by substituting milk for water and topping it off with a dollop of whipped cream!