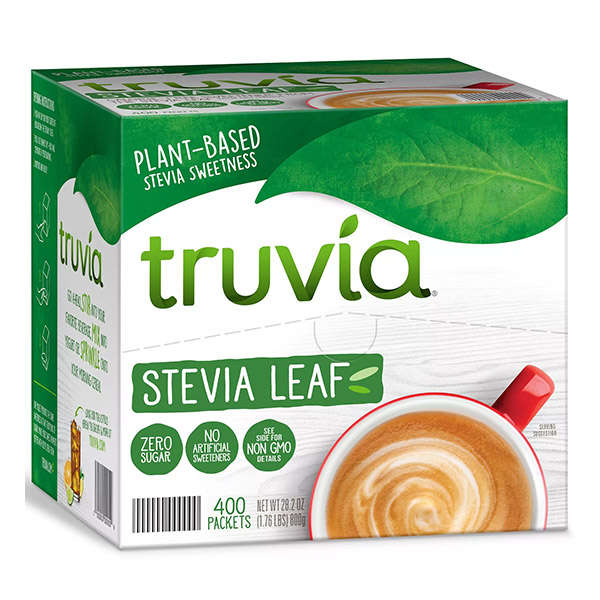 Truvia Original Calorie-Free Natural Sweetener (400 ct.)
Truvia Original Calorie-Free Sweetener from the Stevia Leaf Packets
400 ct. box of packets
Sugar free and keto friendly
No artificial sweeteners
Suitable for people with diabetes
Sweetness is meant to be enjoyed. That's why Truvia created products meant to reduce sugar, not taste. The clean, sweet flavor contained in Truvia Natural Sweetener packets comes from nature in the form of the stevia leaf. Leaves don't dissolve well in beverages or baked goods, so we extract the sweetness from the stevia leaf. Because stevia leaf extract is 200x sweeter than sugar, we balance the sweetness with erythritol, a sweetener produced by fermentation.   Erythritol is also found in fruits like grapes and pears. This gives you the white crystals you're used to without the calories. This 400-count box can be stashed at home, at work or a few packets can be thrown in your bag for on-the-go sweetness.
Is Truvia the Same Thing as Stevia?
The stevia plant provides the extract which is the main ingredient in Truvia sweetener. The components that make Truvia sweet are extracted from the leaves and purified. Then, a special combination of natural flavors is added to give Truvia its delicious taste. Stevia leaf packs a lot of sweetness which means a little bit goes a long way!
What is Erythritol?
Erythritol is what gives the sugar substitute its crystalline, sugary appearance. A fermentation process, similar to brewing beer, is used to make the erythritol. A natural yeast called Moniliella pollinis "digests" dextrose, a simple sugar. Once digested, erythritol is produced. It is then filtered and dried, forming crystals. Erythritol can be found naturally in various fruits like pears and grapes. You can also find erythritol in some wines and in soy sauce.
Is Truvia Gluten-Free?
Yes! Truvia sugar substitute does not contain any gluten and can be used by those on a gluten-free diet. In fact, it can be a great option for many people who have restricted diets. It can be used as a sweetener for people with Type 2 Diabetes. Truvia sugar is also acceptable for vegetarians and vegans. Plus, it is allowed on low-carb diets like Keto or Paleo, and adding it to your morning cup of coffee will not use any of your Weight Watchers points.
In the kitchen, Truvia has so many applications! You can bake and cook with it just like you would the processed white sugar that is normally in your cabinet. Every sweet opportunity—from your coffee, tea, fruit, cereal and yogurt to your favorite family recipes—can be made even sweeter by using Truvía Natural Sweetener.